Each year, St. Lawrence College recognizes the outstanding achievements of individuals or organizations whose accomplishments are of such excellence, inspiration and leadership that they serve as an example for the students and graduates of our college with our Honorary Diplomas.
Nominate a Leader
To make a nomination, please complete this online form Honorary Diploma Nomination Form.
Nominations are accepted year-round. Nominations received before January 31, 2021, will be considered for spring 2021 convocation ceremonies.
2019 Honorary Diploma Recipients
Helena Neveu, Indigenous Elder at St. Lawrence College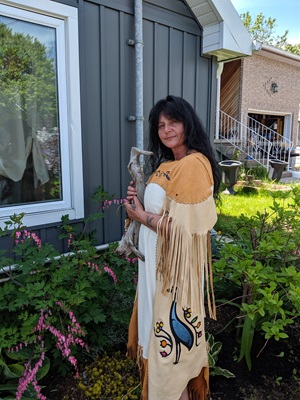 Helena Neveu, a proud Ojibway woman from Batchewana First Nation, arrived in Kingston some thirteen years ago and quickly became a respected member of the Indigenous and greater Kingston community, sharing teachings with an ever-widening circle of people, offering them healing and hope through Indigenous cultural pathways.
As the Indigenous Elder at St. Lawrence College (SLC) since 2014, Helena, whose spirit name is Waasaa Biidaasamose Kwe, meaning Walksfar Woman, creates a positive and inclusive atmosphere for students, staff, and faculty. "I want to build a safe and welcoming space for our Indigenous students and create a positive and inclusive atmosphere for learning and Indigenous cultural awareness for all members of the SLC community."
Helena provides experiential learning opportunities that combine traditional knowledge and Indigenous ways of learning. Whether teaching traditional crafting or songs and drumming, she fosters a greater understanding of Indigenous ways of knowing and being for participants. Helena brings the Anishinaabe teachings of the Medicine Wheel into all interactions with learners.
As Elder on campus at SLC and resident Traditional Knowledge Keeper for the Indigenous Student Group at Regiopolis-Notre Dame Catholic Secondary School, Helena promotes health and well-being by encouraging students to find balance in the Physical, Mental, Emotional, and Spiritual aspects of their daily lives.
For Helena, laughter is essential to human well-being and she enjoys sharing the seven holistic Anishinaabe practices for daily life: talking, laughing, crying, dancing, sweating, yawning, and yelling. Helena promotes the values and way of life of contemporary Anishinaabe Kwe and has become a role model for many in the Kingston area.
"I cannot express how much I enjoy my work. My gifts that are recognized have filled me immensely. I will do this forever now, after all I am just an invited guest here," she said.
Helena's work as a traditional knowledge-keeper, drummer, singer, and crafter led her to involvement with St. Lawrence College and many other community organizations, including Interval House, Tipi Moza Housing, Limestone District School Board, Algonquin & Lakeshore Catholic District School Board, Queen's University, Royal Military College, and the Elizabeth Fry Society of Kingston. If her work with community organizations wasn't enough, Helena also owns a successful landscaping business called This, That, and the Other Thing.
"I grew up in a very big family in Sault Ste. Marie – number 10 of 11 children," Helena said. "We always had to work together, either fishing or moose processing. My parents were extremely hard working and fun; my mom was a nurse and dad a musician and jack-of-all-trades. They taught me the meaning of hard work."
SLC is extremely important in its role as a community college, according to Helena. "It is hard to express my gratitude at my nominators without tearing up. What an honour. I am so touched and moved to be receiving this honour."
Helena's advice to new SLC graduates? "Go with your hearts and shoot the moon. Apply yourself to everything and never give up. I am always learning new things. Take care of yourselves physically, mentally, emotionally, and spiritually. Keep learning and looking at the bigger picture."
Guy Lauzon, Member of Parliament for Stormont-Dundas-South Glengarry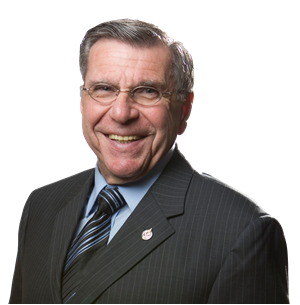 "It is not the problems and pitfalls of our lives that define us. It is how we respond to those challenges that will ultimately be our legacy." These are the words of former Prime Minister Stephen Harper from the forward to Guy Lauzon's memoir, From Lawbreaker to Lawmaker, published in 2017.
If Harper's words are true, then Guy's legacy is the ultimate story of inspiration. Guy calls himself a "modern-day miracle," a high school dropout who overcame a 15-year battle with alcoholism to become one of the longest serving politicians of the Conservative party; he has represented the riding of Stormont--Dundas--South Glengarry for 15 years as a Conservative. Guy, who is 75, recently announced he would not be seeking reelection this October.
"Representing our community as Member of Parliament for the past 15 years has been an honour and a true blessing, but I want to spend more time with my wife, Frances, and my grandchildren. I also want to learn more about my Catholic faith."
Guy was born in the area, in St. Andrews West, where his family roots in the region can be traced to the 19th century. "Growing up in St. Andrews West was truly a blessing, a pristine rural eastern environment where I could spend hours on end outside with my friends."
Before entering politics, Guy spent more than 22 years in the federal public service and served as a local union president of the Public Service Alliance of Canada. During the 1990s, he served as chair of the local United Way chapter and multiple sclerosis research funding campaigns.
Guy has also served as fundraising chairman of the St. Andrews West Catholic Church, which raised more than $100,000 for their building restoration. Guy has been involved in the community in many ways. He operated the Bonville Flea Market, was the fundraising coordinator for the Cornwall Aquatic Centre, and acts as chair of the Cornwall Canada Day Committee.
"Volunteerism is at the core of what it means to be a Canadian. We put our community before ourselves in order to leave a better tomorrow for our children and grandchildren," Guy said. "I have been involved with many charitable organizations throughout my life. It's not important which organization you choose, what's important is the time and effort you give them."
"I truly feel blessed to be able to share my story with all those who may be in a dark place and are seeking a way out. People need to realize that they are not alone in their struggles, that there are hundreds of people who understand what they are going through and are there to lend a hand and a shoulder."
Given his tenacity to overcome hardship, it's no wonder Guy admires Terry Fox. "Terry exemplifies what it means to persevere, to courageously battle against all odds to achieve something bigger than ourselves." All proceeds from Guy's memoir are generously donated to the Cornwall Community Hospital's Addictions and Mental Health Centre. "I wanted my book to act as a beacon of hope to others suffering from addiction," he said.
The Cornwall area is very lucky to have St. Lawrence College (SLC) for local residents to access post-secondary education, according to Guy. "SLC is a cornerstone in our community. It allows our young people to earn an education close to home. It attracts the best and brightest to our area, where hopefully they will then lay their roots and grow our community."
The Cornwall campus delivers excellent programs in all areas, particularly the skilled trades, which Guy says bodes well for the future. "I truly believe that students immersing themselves in the trades is the best thing they can do for their future. The trades require skills that will always be in demand and allow individuals a good living for their entire lives."
For Guy, being awarded this honorary diploma is extremely humbling. "I have never received a diploma from any level of study or educational institution. I am living proof that anything is possible when you believe. Regardless of your age, sex, race, background, disability, or educational background, believe you can succeed, be enthusiastic, have a positive attitude and work hard and you will achieve anything you wish for."
PAST HONORARY DIPLOMAS RECIPIENTS