In Memory of Louise Porter, May 26, 1951 to December 18, 2008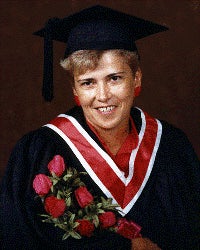 This bursary was setup in honour of Louise Porter and is used to support student bursaries at St. Lawrence College. Louise was admired for her strength and courage as a single mother of two boys, who returned to school later in life to attend the St. Lawrence College Hairstylist Program. She will always be remembered for her generosity. Louise was well known to be a hard worker, and like her, we will continue to work hard to raise money to support more students in financial need with this bursary. Thank you for helping us continue to build upon this great cause!
Louise Porter Memorial Bursary
Available to a single mother entering any full-time program at St. Lawrence College Kingston campus. Applicants must be returning to school to further their education following an absence of two or more years from formal education and should outline their personal goals within their application for this award. Must be an Ontario resident and demonstrate financial need.