The Tree of Peace project at the Brockville campus has been initiated by Keith Hare, a long-time staff member of the Brockville campus and an SLC alumnus. He is now reaching out to colleagues, alumni, and community members to support the commemorative tree.
"Back in the early 2000's we had a dedicated group of volunteers who formed the SLC Brockville Alumni Branch, and with help from a few community partners, we created the 'Alumni Family Tree' project. Through donations from alumni, we planted a few trees along the main entrance to the Brockville campus. We dedicated them to family and friends who helped us fulfill our academic goals. We also declared the driveway of the campus 'Alumni Drive,' complete with an official road sign from the City of Brockville. Every time I drive into the College, the trees proudly remind me of the accomplishments of our Alumni Branch," said Keith.
Fast forward to May 2022; as part of their commitment to creating a community of Belonging, the College organized an Indigenous Day of Learning for all staff and students. One of these events – Good Mind: Building Meaningful Relationships with Action – gave attendees a chance to learn how the Haudenosaunee principle of the "Good Mind" encourages people to take pride in their culture and community.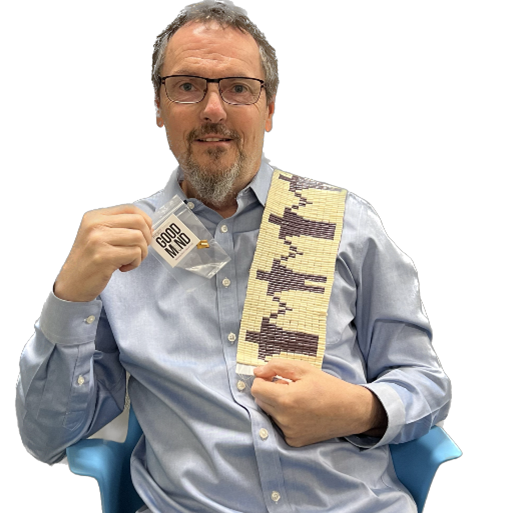 SLC employee and alum Keith Hare with a Wampum. Photo by Shannon Hall.
Shannon Hall, Education Developer/Curriculum Consultant of IWKB at SLC, one of the leaders of Project Good Mind, shared her story and presented each participant with a Wampum with the understanding that we "use the discipline of a Good Mind in daily interaction with yourself, others, & Mother Earth." Keith knew that Project Good Mind perfectly fits the Alumni Family Tree project.
Their goal is to plant a Tree of Peace – a White Pine – on the Brockville campus as a symbol of the Good Mind principle and as a symbol of Truth & Reconciliation for anyone in our College family and our larger community.
If you wish to contribute towards the project's goal of $3,000, visit givetoslc.com/treeofpeace.