SLC's internet-accessible services are constantly subject to illicit login attempts from people seeking to install malware and ransomware, searching for mailboxes from which to send spam, hunting for data for identity theft, or attempting to steal intellectual property. Duo multi-factor authentication (MFA) is a proven technique to prevent your account from being used in these attacks. It relies on something you know and something you have.
Once your SLC account is MFA-enabled, your login to SLC.me and the applications within it are protected by Duo. This is accomplished by using your SLC username and password (something you know) and the Duo Mobile application running on a smartphone or tablet (something you have).
Should someone steal your password and attempt to use your account to access SLC.me they will be denied access without your Duo token or Duo Mobile application.
Registration steps
While you are setting up your cell phone, you will actually have to initiate the process from your computer/laptop. You will see a QR code on your computer as you walk through the process.
You will be able to login with your SLC username and password. Remember that your SLC username ends with '@sl.on.ca' (for staff) and '@student.sl.on.ca' (for students and applicants).
Click on 'Next'.

You will now be presented with a Duo screen. Click the green "Start setup" button.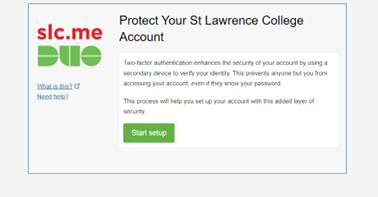 You should be able to continue to add your new device.
Please add your cell phone as a 'Mobile Phone'.
If your cell phone is already associated with another SLC account (such as students who are working as bursary staff), you can choose 'Tablet' to continue through the setup.
Click on 'Continue'.
The system will ask you to indicate whether you have an iOS (iPhone) or Android device.
You will be prompted to make sure you have downloaded the Duo Mobile App to your cell phone (or other device like an iPad) before proceeding.
You will be able to find the App from the AppStore (iOS) or Play Store (Android).
Once you've downloaded the App on your device, click 'I have Duo Mobile installed'.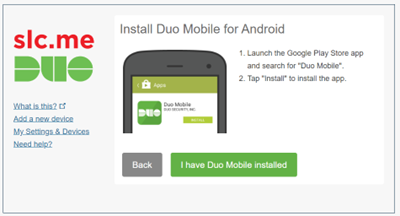 The next screen will display a QR code. You will then need to open the Duo app on your cell phone/device, and click the '+' in the top right-hand corner in order to add that phone/device.
Alternately, your cell phone may prompt you to 'Use a QR code'. Make sure that the full QR code is visible on the computer screen, and that the pointer/arrow isn't accidentally sitting on top of it. Then hold your cell phone about 12" away from your computer monitor, so the phone will scan the QR code. You may need to allow the App to access your camera for this step.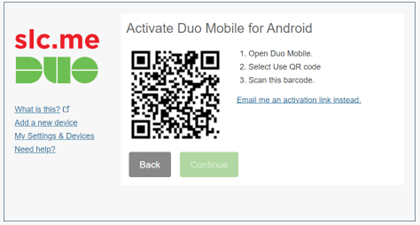 You will notice a green check mark will appear over the QR code, and a 6-digit number will be populated on the Duo app on your phone. You can close the Dup app on your phone, and then scroll down on your computer screen and select 'Continue'.
Scroll down to the bottom of the next screen, and select 'Continue', without making any changes.
Leaving this screen, without making changes, will allow you to always choose which authentication method works best for you at any given time.
Most of the time, it will be a push to your phone, but sometimes you may want to enter a passcode.
The last screen will prompt you to log in by choosing one of the authentication methods.
Choose 'Send Me a Push', and if you have notifications turned on for your phone, you will be notified that you have a message from the Duo app. You can simply tap on that message, and then click on 'Yes, it's me' to allow yourself access.
If you get a slc.me Duo notification on your cell phone (or other device) asking 'Are you logging in to SLC Azure AD?', and you have not requested to push an authentication to your device, make sure to 'Deny' the request. You do not want to inadvertently allow someone else to access your account.
Using Duo
Once your Duo setup is complete:
Log into SLC.me as you normally would. You will be prompted each time you sign into SLC.me to validate your identity with Duo.

Specify whether you'd like to receive a push notification, or passcode from your Duo Mobile app. In a situation where you do not have access to data on your device, you can still use the passcode provided in the Duo Mobile application to sign in.

Acknowledge the notification on your device or enter the passcode as requested.
Third-Party Accounts and Services
Duo Mobile goes beyond St. Lawrence College and can be used with a variety of web services and applications, including Facebook, Twitter, Google, and more. Authentication apps such as Duo Mobile or Google Authenticator provide a more secure multi-factor method than text messages and are increasing in popularity due to their ease of use and provided security. Duo provides instructions on adding third-party accounts to your Duo mobile app: Third-Party Accounts
We recommend setting up multi-factor authentication on any online account you have and implore you to seek out the service's instructions for adding an authentication app. Although a website may provide instructions for one authentication app – like Google Authenticator – generally they provide the same service and setup can be completed as long as you can scan the QR code they provide.
Duo Restore for Third-Party Accounts
When you get a new phone or device, you'll find yourself reinstalling your authentication app and needing to restore the sites you had setup previously. With Duo Restore you can backup and restore those sites with the following guide from Duo: Duo Restore
Frequently Asked Questions
Multi-factor authentication (MFA) is the industry standard for login security. MFA protects your accounts and data if your password is ever compromised.
All St. Lawrence College students, staff, and faculty are required to be registered with Duo. The mobile app is available for both iOS and Android devices from their respective app stores. The mobile app supports 'push notifications' when logging in, as well as provide you with a rotating passcode. You can either approve or deny the login attempt via your phone.
You can use the Duo Mobile app running on a smartphone or tablet. Using the push notification on a Duo Mobile application is the most convenient method: just press 'approve' on the Duo Mobile app. Using the push notification requires data or Wi-Fi on the device running the Duo Mobile app. In a situation where you do not have access to data on your device, you can still use the passcode provided in the Duo Mobile application to sign-in.
Please reach out to the IT Service Desk to discuss accommodation for this scenario.
You can set up multiple devices with Duo such as a smartphone and a tablet. If you have lost access to your device(s) you can contact the IT Service Desk for assistance. IT Service desk hours are 8:00 AM to 4:00 PM EST Monday through Friday.
You do not require data to use the Duo Mobile application. In a situation where you do not have access to data on your device, you can still use the passcode provided in the Duo Mobile application to sign-in. Push notifications do require data.
Contact the IT Service Desk. The staff can help you access your account and get you set back up.
Yes, you can utilize multiple authentication devices with your SLC.me account.
When you log into SLC.me, before entering your authentication method (push notification or passcode), click onto Settings then Add a new device to proceed with setting up another device on your account.
There are some phone number restrictions: you can only use your phone number with one account, but you can use multiple phone numbers with one account. That is, if you use 613.555.5555 on your account, you wouldn't be able to add that to another SLC.me account. But if you also have 613.544.5544, you can add that as a second phone number on your account.
You can always add another device as a "tablet" when choosing your device type – tablets do not need phone numbers to be setup.
Need Help?
The ITS Service Desk is here to help! If you encounter any issues, please call 613.544.5400, ext. 4357 or email us at ITS@sl.on.ca.